Never give up fighting for gun safety was the message delivered at Tuesday night's Student Town Hall on Gun Safety that U.S. Rep. Gerry Connolly (D-VA-11thDistrict) hosted at the Providence Community Center in Fairfax. Connolly spoke about the many common sense gun measures he has supported which failed to pass Congress. He supports limits on assault weapons, expanding background checks, closing the gun-show loophole, and preventing those on the no-fly list from purchasing firearms. Connolly said even though some Republicans admitted that they supported preventing those on the no-fly list from buying guns, they thought a yes vote would prevent them from getting reelected in their very red districts.
Joining Connolly on the panel were local members of Students Demand Action: Ella Wogaman of West Springfield High School, Michael McCabe of Robinson Secondary School and Ryan Carney of James Madison High School. Langston Carter of the Youth Initiative for National Action was also on the panel. Each spoke eloquently about what spurred them into action.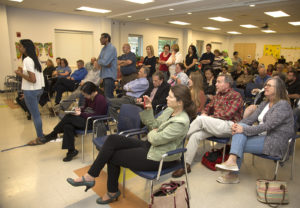 More than a dozen members of the audience — a full house — queued up to ask the panel questions and make suggestions. A former member of the Secret Service suggested that we make our voices heard to have Virginia lottery profits support gun safety measures in schools. A Fairfax PTA spokesperson mentioned a challenge for all Fairfax high schools to register high school seniors to vote. The challenge was organized by the Fairfax County Council of PTAs, the League of Women Voters and Inspire VA. For more on the challenge, click here.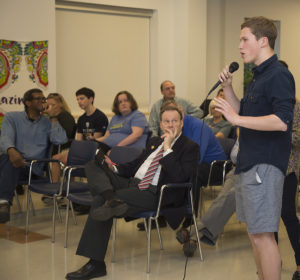 One audience member mentioned that it was ironic that the National Rifle Association was originally formed to teach gun safety, and many agreed that its members should revert to that goal.
Zachary Schomfeld, a senior at South Lakes High School in Reston, mentioned that his actions in support of gun safety measures had brought some hateful comments in social media. Connolly, the rest of the panel members and the audience encouraged Zachary to ignore the hateful comments and keep doing what he can to promote the goal of safe schools and sensible gun safety measures.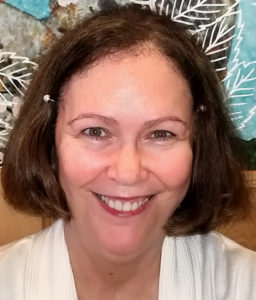 Photo Essay by Karen Kirk, Deputy Editor / Photo Editor of The Blue View