By Brad Swanson:
Democratic elected officials took turns praising Virginia's role in turning the tide after the disastrous 2016 election and urging continued attacks on Republican majorities in the mid-term elections in November. The politicians were speaking at Sunday night's Jefferson Obama Dinner, the main fundraising event of the year for Fairfax County Democratic Committee.
"We wake up tomorrow in the America that we make,"  keynote speaker Rep. Seth Moulton (D-Mass.) told the sold-out audience in the ballroom of the Hilton McLean Tysons Corner. Moulton, a charismatic Marine veteran thought by many to be eyeing a presidential run in 2020, urged the creation of a 21st century infrastructure for America featuring universal broadband internet access, high speed rail communications and widely available technical training to prepare the workforce of tomorrow.
Moulton noted that Donald Trump's election to the presidency in 2016 marked the worst electoral position for Democrats nationwide in a century,  but Virginia's statewide elections one year later  — featuring a sweep for Democratic candidates from Gov. Ralph Northam on down to a near-capture of the House of Delegates – signaled a new offensive for Democrats.
Moulton's theme was echoed by other state and local Democratic leaders including Sen. Tim Kaine, Reps. Gerry Connolly and Don Beyer, and Va. Lt. Gov. Justin Fairfax.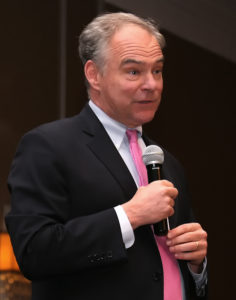 Kaine pointed out that as he tours the state his crowds are growing larger – not because of him, he explained, but because "people are getting energized".  He supported the ideal of "Virginia for All" in which jobs, justice and opportunity for advancement are equally available. He drew an analogy to the Children's Crusade of 1963 in Birmingham, Ala., when the bravery of young activists who joined Martin Luther King Jr.'s non-violent civil rights protests galvanized the nation.  Today also young people are taking to the streets and changing minds, he said. "There could not be a more exciting time to be in the vanguard" than today, he claimed.
Beyer also struck a positive note, noting that "the world is becoming a better place" in terms of healthcare, education, family income and other factors. He conceded that since the election of Trump there has been massive backward movement in America, but insisted that "great reasons for optimism" remain. He listed three in particular:
Grassroots activism is surging
The free press has flourished despite the efforts of Trump and his allies to discredit it
Most important, Democrats are winning elections again in state and local jurisdictions across the country
"The stage is set to take back the House and Senate," he proclaimed. And, "the eyes of the world are on Fairfax County and Northern Virginia".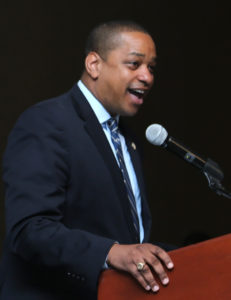 Connolly was more reserved. "This is a great time to be a Democrat," he said, "but a somber time to be an American."  He urged caution in pressing for Trump's impeachment. Not only does he believe it is a vote-losing proposition for Democrats on the stump, it is a matter that should be dealt with by rule of law.  Connolly finished by  expressing confidence that voters' better natures would lead to a Democratic resurgence in elections.
Fairfax stayed with the night's common theme.  On the eve of state elections in In 2017, "things seemed dark," he recalled, "but Virginia showed the way and gave hope to people all across America." He said that in his  travels to many states,  he has seen that "leadership in Virginia is being felt all across the country".  However, he concluded, that while "2017 was about hope, 2018 is about accountability," meaning that Republicans should be judged for their actions in power at the mid-term elections coming up in November.
---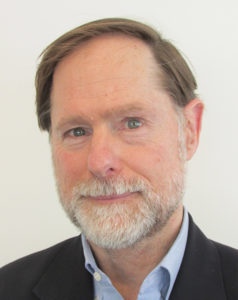 Brad Swanson is the editor of The Blue View and a member of Hunter Mill District Democratic Committee. He is an international investment manager and previously worked as a diplomat and journalist.
Photo: Rep. Seth Moulton addresses sell-out audience at Jefferson Obama Dinner. / Photos by Karen Kirk, Blue View deputy and photo editor