By Stephanie Witt Sedgwick:
With less than three weeks remaining to election, Democratic primary candidates for Va. Congressional District 10 focused as much on beating Republican incumbent Barbara Comstock as on the issues during a candidate forum on May 22.
Five of the six candidates participated in the forum hosted by the Sully District and Hunter Mill District Democratic Committees at May 22 at Chantilly High School. State Sen. Jennifer Wexton was unable to attend due to the ongoing special legislative session in Richmond.
In a statement on her behalf read by Jerry Foltz, a member of the Sully Democrats, Wexton said Medicaid expansion was one of the most important issues in our lifetimes. She went on to attack Comstock on her voting record, setting the tone for the evening by using a key progressive issue to help define her candidacy and target Comstock.
Julia Biggins, a research scientist, was the first candidate to speak personally, saying she was "here to fight for science" and terming the culture of professional politicians in Congress, a "disease." By contrast, she called scientists true public servants and promised to be a true representative of CD10's constituents.
Alison Friedman pointed to her record as a senior State Department official and human rights advocate and vowed to stand up to abuses of power. She stressed the need to restaff the State Department to rebuild the USA's devastated global reputation, and said she would protect federal employees against a bill supported by Comstock that would allow federal salaries to be lowered to as little as $1.
Dan Helmer, a decorated West Point graduate, and more recently a business consultant, contrasted his record of military service to Comstock's tenure as a public official. While he was serving his country, Helmer said, Comstock was serving special interests. He added that his experience as a combat veteran would be a powerful force in bringing voters to the polls.
Paul Pelletier, a former federal prosecutor, stressed his proven track record of holding those who do wrong accountable: "I want to help end the era of broken government,"  he said. Pelletier believes healthcare is Comstock's most vulnerable area, and he promised to improve the healthcare system.
Lindsey Davis Stover, a former Obama Administration official, said she could beat Comstock because she will compete in every part of the district. She spoke against the gridlock, poor safety and high tolls of a broken transportation system, citing the case of a family she met who pay $40 a day in tolls to ensure they don't incur extra charges for keeping their children after hours at daycare.
Moderator Robert McCartney, a senior correspondent for The Washington Post covering regional politics, closed the forum by congratulating the candidates on their commitment to the race, which, he said, was the sign of a healthy democracy.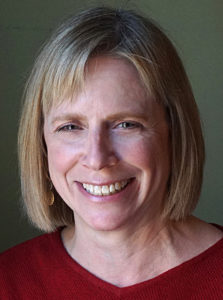 Stephanie Witt Sedgwick is a member of the Dranesville District Democratic  Committee and Virginia Democracy Forward. A former columnist and recipe editor for The Washington Post, she now writes a weekly column for mylittlebird.com.
Photo: L-R: Julia Biggins, Dan Helmer, Lindsey Davis Stover, Alison Friedman, Paul Pelletier, Maggie Godbold (Sully District Chair), Robert McCartney/ Photo by Elizabeth Walker