By Karen Kirk:
Immigration has helped Virginia rise from poverty to affluence, notes Sen. Tim Kaine.
Kaine does the numbers: In 1968, only 1% of Virginians were immigrants and the state ranked 38th in income per person. Today, immigrants make up 11% and we have shot up to become the 12th richest state  in terms of per capita income.
Although correlation is not necessarily causation, Kaine believes that "people from other nations have found Virginia to be a place where they can come and find opportunity" and that this "has been such a huge part of our success."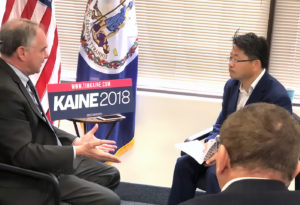 Kaine was speaking at a press conference for Asian and Latino news outlets on May 21 at the Fairfax County Democratic Committee headquarters.
Immigration reform was a top issue at the event. "The problem right now in immigration reform is that we have Democrats who want to do immigration reform, and we don't have enough Republican votes to protect DREAMers" Kaine said, referring to beneficiaries of President Obama's Deferred Action for Childhood Arrivals policy.
Kaine contrasted the current climate to 2013, when he worked on the Comprehensive Immigration Reform Bill. "It was very bipartisan," he said. "It was visa reform… It was border security… It was a path to citizenship for 11 million people here without documents… and it was protection for DREAMers." Although the House did not take up the bill, it attained nearly 70 votes across both parties in the Senate.
But under President Trump, executive branch leadership on this issue is inconsistent. During his campaign, Kaine recalled, Trump said DREAMers deserved a fair solution to ease their situation. Then last September, he announced that he was going to terminate immigration protection for DREAMers. "I viewed this as a broken promise, but the one thing he said that was right is that Congress should fix it," Kaine said.
Congress took up the challenge, Kaine said. "In February, I was the drafter of a DREAMers protection bill and chief Democratic negotiator. It included protection for 1.8 million DREAMers. In exchange, the president wanted money for border security. He wanted $25 billion over 10 years and we offered to give him every penny of that. (But) we wanted some control over how the money was spent so it wouldn't be wasted … "
"The president turned it down," Kaine continued. "He insisted that we rewrite all the rules about family unification in the immigration system and we weren't going to do that. We weren't going to upend decades of family unification rules. So we're still looking. We had every Democratic vote and 8 Republican votes but it wasn't enough to get to the 60 vote threshold."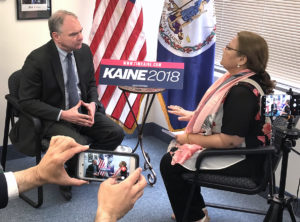 Kaine said there is an ongoing dialogue with the president. "There's a chance this deal may come back as part of the budget negotiations in September, but not if the president is going to ask us to change the family unification rules or eliminate the diversity visa program. We want to do a trade of DREAMer protection for border security but we are not going to throw everyone else out to protect the DREAMers, so it's a tough time right now. But we will continue to advocate and the good news is that on the Democratic side, we are completely unified on comprehensive immigration reform and protection for DREAMers."
On foreign policy as well, Kaine noted Trump's failure of leadership. "One concern I have about this president is that he has a tendency to undermine alliances in ways I think are unhelpful," said Kaine, who serves on the Senate Armed Services Committee. "Backing out of the Paris deal, the Iran deal, deals we've worked on with allies … It breaks our word and leaves a vacuum that others will fill or that no one will fill, which can be very dangerous."
Kaine is seeking a second Senate term this November, and said he bases his campaign on two themes.
The first is "A Virginia that works for all." Kaine said, "I'm always looking for good ideas in Virginia, either something that's working that I can take to D.C., or listening to Virginians about something that isn't working that I could come and help provide better solutions for — veterans' health care for example."
The second theme is "A Virginia that works." Kaine said, "I believe in work. I believe in the dignity of work. I believe in the power of work. I think that everybody in the state, wherever they live, whatever their skin color, wherever they're from, whatever religion, whatever language they speak, they should have a path to economic success. They should see a ladder that they could climb to success."
"We can't make everyone climb the ladder, but too many people in our state and country don't see a ladder that they can climb," Kaine said. "They might live in a community where they don't see enough economic opportunity. So I want a Virginia that really works, where there's an economic success path for everyone."
Photo above the story is of Sen. Tim Kaine speaking to Asian and Latino journalists.
---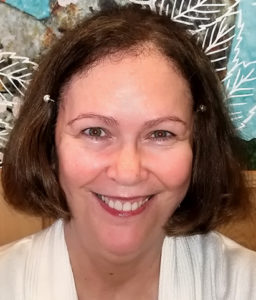 Karen Kirk is the Deputy Editor / Photo Editor of The Blue View and a retired journalist.