By Kris Gregory:
A coalition of community groups led by Concerned Citizens Against Gun Violence (CCAGV) marched against gun violence in the Falls Church City Memorial Day Parade on Monday, May 28. Alison Friedman, one of the six candidates in the Democratic Primary for Virginia's 10th Congressional District, was among 58 marchers. The marchers wore orange or Hokie orange and burgundy (Virginia Tech colors) for Wear Orange for Gun Safety Day on June 2, which honors the memory of Hadiya Pendleton, a 15-year old college-bound honors student and all victims of gun violence.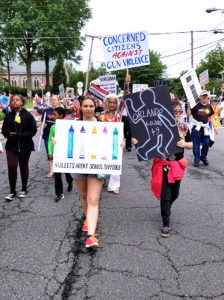 Hadiya was an innocent bystander killed in the crossfire of a shooting in her Chicago neighborhood a week after she marched with her high school band in President Obama's 2nd inaugural parade in January 2013. Former First Lady Michelle Obama attended her funeral. Hadiya's friends created Wear Orange for Gun Safety Day in her memory for her birthday, June 2, because orange was her favorite color.
Marchers of all ages carried banners and signs protesting gun violence while singing "For What It's Worth," by Buffalo Springfield, "Don't Let Me Down," by The Animals and "The Times They Are A-Changin," by Bob Dylan. They were led by Larry Rice of Falls Church City who is a music teacher and Max Ellis of Langley High School. Both played accoustic guitar. Marchers included members from Temple Rodef Shalom of Falls Church, the Northern Virginia chapter of the Brady Campaign Against Gun Violence, Lewinsville Presbyterian Church Faith in Action, and the Fairfax County Democratic Committee.
At the CCAGV festival booth, Virginia voters wrote over 141 postcards to Virginia members of the U.S. House and Senate,  asking them to vote yes on bills requiring universal background checks for all gun sales, including online transactions and at gun shows.
Photo above the story shows marchers gathering before the parade. / Photos by Karen Higa.
---
Kris Gregory is the Longfellow precinct captain for the Dranesville District Democratic Committee and a member of Concerned Citizens Against Gun Violence.