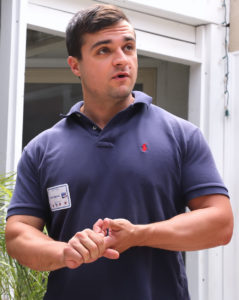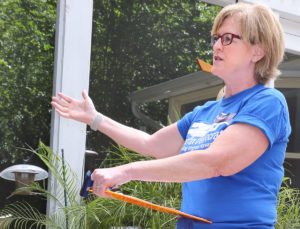 Sunday was a beautiful day to get together with neighbors, knock on doors and encourage people to vote for Democrats in November. It was the kick off of Mason District's new "Neighbor-to-Neighbor" civic engagement campaign designed for neighbors to talk with each other about the importance of the 2018 election and listen to their concerns. Dan Lagana, Chair of the Fairfax County Democratic Committee, and Virginia Delegate Sam Rasoul (Roanoke), addressed about 25 people at the home of Carrol McCarren and Mike Sternad in Falls Church before the neighbors set out to meet would-be voters.
Lagana encouraged the audience to engage with people and really listen to them rather than just checking off boxes. He pointed out that there is a wide range in incomes in the Mason District, which has many service employees along with high-income residents. He said that it's important to tell people who need services what is available to them. Lagana joined the neighbors as they knocked on doors.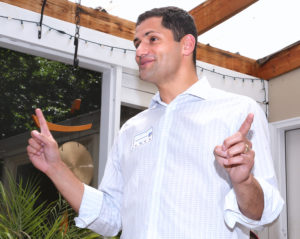 Rasoul mentioned how his experiences with canvassing for Barack Obama helped shape his message. He said that one person he spoke with while canvassing said that he would vote for Rasoul but not for Obama because Obama was a Muslim. Rasoul told the man that while Obama was indeed a Christian, Rasoul himself was a Muslim. He said the conversation got interesting after that.
Photo above story is of neighbors reacting to Delegate Sam Rasoul's remarks.
Photo Essay by Karen Kirk / Deputy Editor, Photo Editor of The Blue View.