By Karen Kirk:
"VOTE THEM OUT" was the rallying cry of speakers and protesters as more than 100 people gathered outside of the NRA Headquarters in Fairfax Saturday in support of gun safety.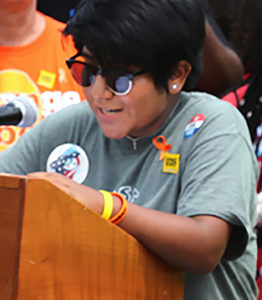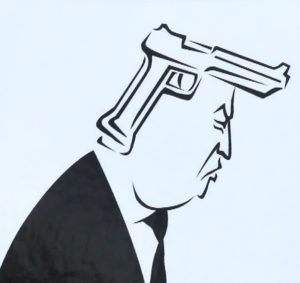 "This nation breathes the oxygen that is the promise of liberty and right now, our people are suffocating," said speaker Micaela Lattimer, a 17-year-old Latina from Maryland. "We're not free when gunshots pierce classrooms. We're not free when people are criminalized just for being black or brown. We're not free when gun violence in Atlanta, Chicago, St. Louis, Baltimore and Detroit goes ignored," said Lattimer, speaking in English and Spanish.
"We point cameras to schools whose windows are shattered but muffle the voices who cry black lives matter. When black activists protested police brutality they were met with full riot gear and teargas," said Lattimer, who helped organize the rally.
"To my fellow young people, it is now our job to actively urge those around us to vote and to lobby legislators and question authority," she said. "Eternal vigilance is necessary to protect our freedom."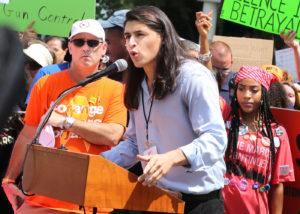 "To elected officials, we the people are calling on you to develop and carry out policy that prevents a firearm from getting into the cold grip of a domestic abuser, policy that prevents the phone call telling a family their child was gunned down at age 16, policy that protects black youths from the shackles of criminalization and policy that keeps hateful people from committing a massacre. Most of all, policy that promotes humanization and education."
"If you wish to stay in office, we demand that you actively protect our inalienable rights to life, liberty and the pursuit of happiness," Lattimer said.
Fred Guttenberg, father of Parkland shooting victim Jaime Guttenberg, said he happened to be a believer in the Second Amendment. "To those who are outside of this crowd walking around with AR-15s and other weapons, if you're a lawful gun owner, I hate the fact that you think you have to make a point to those of us who have lost loved ones."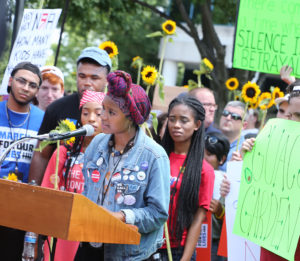 "All of you are parents, you are children, you have loved ones and you want to save their lives," he said. "We are not morons we want safe streets. We don't want to live in fear of being shot."
"I know what it's like to be afraid to leave your own front door for the threat of being struck by a stray bullet," said Bria Smith, 17, of Milwaukee, Wis. "I know what it's like to have your neighborhood friends disappear." "We must acknowledge that mass incarceration of our black and brown youth corelates with gun violence as does the underfunding of public education." She also said that police brutality also should count as gun violence.
"I want to remind every single person in this crowd: Our vote is our power and we will use it," Smith said.
The National March on the NRA was supported by activists from March for Our Lives and survivors from the Marjory Stoneman Douglas High School shooting in Parkland, Florida.
The photo above the story is of protesters gathering outside of the NRA Headquarters Saturday in Fairfax, VA. The $1.18 was calculated as the price of each student across the country, based on the millions of dollars politicians have accepted from the NRA.
---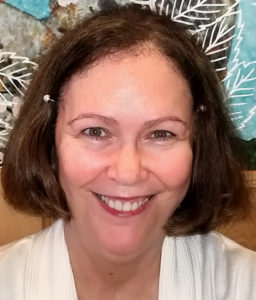 Karen Kirk is the Deputy Editor/Photo Editor of The Blue View and a retired journalist who worked for the Knight Ridder/Tribune News Service, which later became the McClatchy/Tribune News Service.