By Paul Davis:
You cannot miss the current enthusiasm of young people for a new political direction. Fairfax Young Democrats (FYD) is one of the most active and committed youth organizations in this movement.
Whether it is hosting speakers, canvassing, protesting or other displays of civic participation, FYD is there, representing the future — and many of the present — leaders within the Democratic Party.
Here is a sample of FYD activity:
Recently canvassed for candidate Abigail Spanberger in the 7th Congressional district, which extends from Culpeper south to below Richmond
Hosted panel on Criminal Justice Reform Sept. 26, examining how young people can effect change through legislative and other means
Will host Sen. Tim Kaine on October 17 for a discussion on policies and issues directly impacting young professionals in our region
FYD membership consists of individuals between ages 13 to 35 years old residing in Fairfax County and the City of Fairfax. FYD has partnerships or affiliations with state and national Young Democrat organizations, local high schools, George Mason University, Northern Virginia Community College and Fairfax County Democratic Committee.
FYD organizes its activity around four pillars:
1) Elect Democratic candidates for public office, especially fellow Young Democrats
2) Widen and increase the interest and knowledge of young people in government and the political process
3) Train and develop young people for positions of leadership; and
 4) Serve those in need in our community
The group is governed by an elected executive board, currently headed by Co-Presidents Izzy Oldfield and me, Paul Davis. The other members are: Vice President Bo Cherif, Secretary Dan Rosenberg, Treasurer Zuhayr Ahmed, Political Director Denver Supinger, and Membership Director: Tiffany Price.
Young people  — millennials and xennials — are the largest voting bloc in the United States. But many young voters succumb to civic paralysis in the face of cynical elected officials and obstacles like excessive student debt and stagnant employment opportunities.
FYD is committed to overcoming young voter disinterest and using our collecting voting power in line with our progressive values to improve the quality of life for individuals. Join us!
You can find out more information about Fairfax Young Democrats on our website http://www.fairfaxyoungdems.net or through social media under the username @fairfaxyds.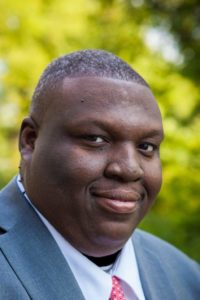 Paul Davis is the Co-President of the Fairfax Young Democrats,  and a member of the Hunter Mill District Democratic Committee.