By Karen Kirk:
Cybersecurity, restoring respect for national security professionals and electing Virginia Sen. Jennifer Wexton to Congress were priorities discussed at a National Security Roundtable moderated by Wexton on Friday in Chantilly, Va.
Sen. Mark Warner, one of six panel members, noted that CD-10 likely has the highest concentration of intelligence professionals in of any district in country and they have been under assault during the Trump presidency. "This White House doesn't want to hear the truth," Warner said. "They want to hear folks simply repeat whatever happens to be the line out of the White House that day."
Warner, vice chair of the Senate Intelligence Committee, tries to visit the intelligence agencies regularly to tell staff that there are many politicians on both sides who are very proud of the work they are doing and that the committee is doing. He said he hopes that Wexton can be a member of the House Intelligence Committee and help steer it on the right course.
He is concerned that Congress just passed a budget that allocates $716 billion to Defense. "I worry sometimes that we may be buying the best 20th century military in terms of tanks, trucks and airplanes when much of the 21st century conflict is going to be in the realm of cybersecurity and disinformation," he said. "If you add up all of the money Russia spent intervening in our election, the French presidential election, the British Brexit vote, it was less than the cost of one new F-35 airplane."
Warner said Congress needs members like Wexton who understand the shift in the international security paradigm. "In a normal White House after this type of assault, someone would be put in charge of election security. Instead it eliminated the cybersecurity chief position. Congress needs to step up if the president doesn't."
Former U.S. Rep. Tom Perriello said there isn't a day that goes by that he doesn't get a message from someone he worked with wondering "what the heck is going on" in America. "The decline of the projection of American values is something that has been felt in every corner of the world," said Perriello, who lead the State Department's 2015 Quadrennial Diplomacy & Development Review. He said that Congress holds the purse strings and exerts an enormous amount of influence on foreign policy whether on oversight spending or targeted sanctions. He added that Wexton has a track record building bipartisan coalitions.
"Veterans tend to be a little more conservative and often Republican, but we are reaching out to them to join Vision First to put the country first," said panel member Roger Dean Huffstetler, who launched the Mission First project with the Democratic Party of Virginia to mobilize veterans and military families in some of the most competitive congressional districts in Virginia, including Wexton's.
"Veterans want to know where the country has gone," he said. "Where is the country that freed a continent and saved western civilization? Fighting for those values is what this election is about."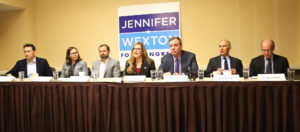 Wexton asked the panel what members see as the greatest threats to national security over the next 10 years, and here's how they answered:
Laura Rosenberger, who served for more than a decade in foreign-policy and national security positions at the State Department and National Security Council: "I'm deeply worried at the way the Chinese government is developing and investing in technology and artificial intelligence that it has coupled with heavy surveillance domestically and has started to export to other parts of the world as an economic and trade program. High-tech surveillance tools give authoritarians the ability to exert more efficiency in how they control their populations from Africa to Latin America, even in NATO countries in Europe."
Matthew Olsen, former Director of the National Counterterrorism Center: "We'll face great power conflicts with China and Russia, asymmetrical threats, cybersecurity, terrorism, technological competition. What's going to lead us through those threats is our values, belief in the rule of law, free expression, human rights and the fact that we had been a leader in all of these fights for decades."
Brian McKeon, former Principal Deputy Under Secretary of Defense for Policy: "One of the biggest threats we face is a changing climate. The planet will survive but the ability of humans to survive may not. The latest report from the U.N. Intergovernmental Panel on Climate Change should be a huge wakeup call for the whole world and our country. It's screaming red that we are running out of time to do something serious about climate changes that will have huge effects on our ability to feed a growing population around world, create instability between and among nations as people migrate to places where they can feed themselves and earn a living … and people running the U.S. government now have their heads in the sand on the issue and we need to get our heads looking forward and figuring out how to address this threat to all of us."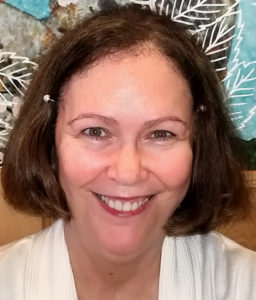 Karen Kirk is the Deputy Editor/Photo Editor of The Blue View and a retired journalist who worked for the Knight Ridder/Tribune News Service, which later became the McClatchy/Tribune News Service.
In photo above story, Tom Perriello (left), Jennifer Wexton, Sen. Mark Warner discuss national security.