Reported by Janelle Hartman and Stephanie Witt Sedgwick:
Postcards may be old technology, but they are being revived as an effective tool in the arsenal of Fairfax County Democrats to get a robust turnout at elections on November 6th.
Numerous postcard parties have been held in Fairfax County throughout the campaign season to target registered voters with personal appeals from writers urging recipients to come to the polls and vote for Democrats. The total number of postcards from area volunteers flooding the US Postal Service is unknown, but estimated at tens of thousands.
The cards are all hand written and addressed. There's no set script, but each reminds voters of the date of election and the Democratic candidates in their district and urges the voter to have their voice heard on election day.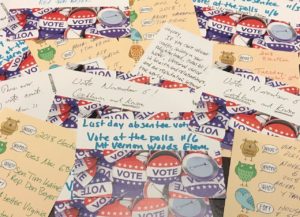 As volunteer Eileen Shropshire wrote, "It took me longer to write this card than it will take you to vote. Your vote matters!"
Two recent postcard parties with big turnouts:
On Sunday, Oct. 21, more than 30 volunteers from Lee District Democratic Committee  turned the back room of Fiona's Irish Pub in Alexandria into a postcard writing factory — filling more than 1,000 postcards with personal appeals to voters who cast ballots in 2016 but skipped last year's state election. Even Fairfax County Supervisor Jeff McKay and School Board Member Ilryong Moon squeezed into crowded tables to help.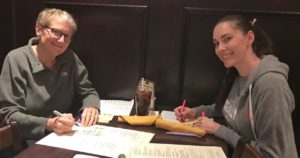 A few days later, on Thursday morning, Oct. 25, more than two dozen volunteers filled the Whole Food Vienna café area (see image at top) to complete a three-month program organized by Vienna Neighbors United that has resulted in almost 10,000 postcards urging Virginia voters to go to the polls on November 6 and vote for the Democratic candidates in their districts.
The postcards serve to remind voters that nothing can be taken for granted in this election. Participation is essential – for the only poll that counts is the election itself.
Janelle Hartman is a former newspaper reporter and longtime writer/editor in the labor movement. She is a member of Lee District Democratic Committee.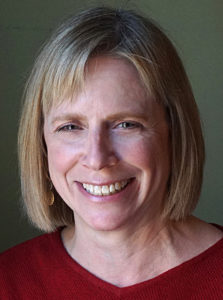 Stephanie Witt Sedgwick is a member of the Dranesville District Democratic  Committee and Virginia Democracy Forward. A former columnist and recipe editor for The Washington Post, she now writes a weekly column for mylittlebird.com.
Main image: Volunteer postcard writers organized by Vienna Neighbors United display their handiwork/ Photo by Stephanie Witt Sedgwick