The heated topic of money in politics in Virginia drew a star-studded list of speakers and a large, boisterous audience to a forum on Nov. 28th at the Mason District Government Center.
State legislators, candidates and activists took turns detailing the corrosive effects of corporate money on politics throughout the Commonwealth, calling out Dominion Energy, the NRA, the Koch industrial family, tobacco giant Altria, and private prison company GEO Group, among others.
The speakers agreed that the topic is sure to play an important role in elections in Nov. 2019 in which all 40 state senators and 100 state delegates will be chosen.
Here is a sample of speaker comments: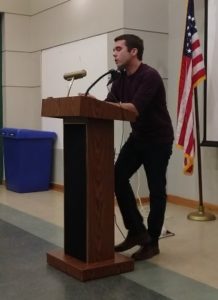 Activists
Josh Stanfield, Executive Director of Activate Virginia, reported that many candidates in recent midterm elections signed a pledge not to take money from Dominion Energy –including winners for US House seats Jennifer Wexton (D-10) and Elaine Luria (D-2). He said the issue would gain momentum in the 2019 statewide campaigns.
Also calling out Dominion Energy, Andrea Miller, Executive Director of People Demanding Action  asked the room to "stand with" the residents of Union Hill, VA, a historically African-American community where Dominion proposes to site a compressor station as part of a  600-mile pipeline natural gas pipeline from West Virginia, across the middle of Virginia and into North Carolina.
Janine Gaspari, a student activist with Transparent GMU, said that the Koch family has contributed $120 million from 2005 until today into George Mason University in a bid to influence the curriculum and direct pro-libertarian research. The group is advocating for transparency of donor agreements to the private foundation, many details of which are currently kept confidential.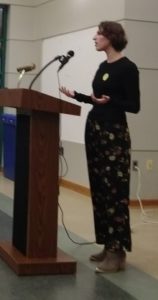 Jeff Thomas, author of the 2016 book, "Virginia Politics and Government in a New Century: The Price of Power," decried the influence of the tobacco company Altria Group over the General Assembly, noting that  "Altria sickens more people than it employs"  and employs child labor on tobacco plantations, including children as young as seven years old.
Boyd Walker of Our Revolution Alexandria and the Alexandria Democratic Committee criticized payday and car title lenders who prey on vulnerable consumers, including armed forces members.
 Laurie Dodd, on the steering committee of Our Revolution Northern Virginia, said that campaign finance laws in Virginia need reform to limit corporate contributions and require disclosure of every dollar that is given.
Legislators
Del. Mark Levine (D-45), targeted the NRA  for helping Republicans shoot down all but one of the 69 gun safety bills introduced by Democrats in the 2018 legislative session. Levine added that if Democrats win a majority in 2019, "you are going to see a lot of really good gun safety legislation."
Del. Marcus Simon (D-53) promoted his legislative proposal to give every citizen in the state a $100 voucher to donate among four candidates of their choice. This would allow lower income voters to participate in the political process. Conceding that some are concerned about the price tag of public financing for elections, he suggested trying it on a local level and then rolling it out across the state if it proved popular.
Dels. Lee Carter (D-50) and Mark Keam (D-35) cautioned about the political influence that Amazon may wield from siting a major part of their headquarters  in Northern Virginia.
Candidates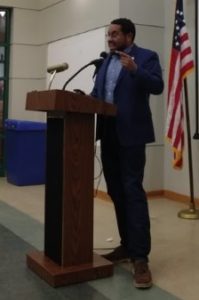 Kenny Boddye  pointed out that private prisons have an economic incentive to keep as many people behind bars as they can. Boddye is chair of the Prince William County NAACP's Criminal Justice Committee, and is running for Occoquan District Supervisor on the Prince William County Board of Supervisors. He added that prison companies are major political contributors, citing GEO Group's $65,000 donation to Republican 2017 gubernatorial candidate Ed Gillespie.
Attorney and Democratic National Committee member Yasmine Taeb, who is running against State Sen. Dick Saslaw (D-35), said that the deck is stacked against a newcomer candidate like her, who is not independently wealthy and is not accepting corporate PAC money or money from fossil fuel companies. She said she will take a leave of absence as a senior policy counsel at the non-profit Center for Victims and Torture for six months during her campaign for the state senate. "If we're serious about candidates who are progressive working people, we need to make this process fair," and "prioritize voters over donors," she said.
For more information about the speakers and their agendas, contact event organizer and emcee Stephen Spitz (mailto:stephenlspitz@icloud.com), Virginia State Coordinator for Progressive Democrats of America
For more information on donations to elected officials in Virginia, please see the Virginia Public Access Project.
Event sponsors included: People Demanding Action, the End Corporate Rule Issue Organizing Team of People Demanding Action, Progressive Democrats of America-Virginia, Our Revolution Northern Virginia, Our Revolution Arlington, American  Promise – Virginia, Our Revolution Alexandria, Activate Virginia, and Loudoun Progressives
Reported by / photos by Abby Fox, member of Braddock District Democratic Committee
Main photo: Yasmine Taeb says she will take a leave of absence for 6 months to wage an electoral battle for Va state senate