By Karen Kirk:
It was time for FCDC members to party on Saturday, to celebrate the holidays and the great victories of 2018, but it was clear that a new election was on the horizon. Chair Dan Lagana reminded everyone that after the holidays, "it's time to get to work."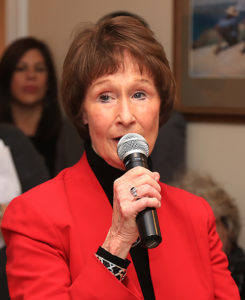 Next year will be a very important election year, said Sharon Bulova, chairman of the Fairfax County Board of Supervisors, who is not seeking reelection. "We have enjoyed a blue wave," she said. "I want to remind everyone that waves don't last forever, and it is absolutely critical that this coming year, when some people may not be paying attention, all members of the General Assembly will be running, and members of constitutional offices will be running."
She said that some people don't get how important local elections are — how important the school board is. "These involve issues that affect your everyday life," she said. "We need to make sure that the blue wave continues."
"The job of chairman is awesome and being the head of Fairfax County is the most wonderful place to be, and I would never have considered passing the torch if I didn't think that I could pass it to someone who I knew would carry on the values of Fairfax County and the priorities that we built over all these years, so Jeff McKay (Lee district supervisor) is my choice to run for chairman," Bulova said.
U.S. Rep. Gerry Connolly, CD-11, credited Virginia's election victories and its shift from red to blue to volunteers willing to put in the time even in bad years and not giving up. "It's sort of like being a Red Sox fan," he said.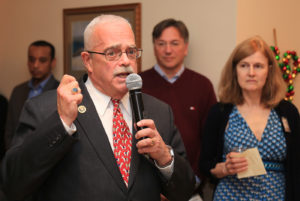 "We've gone from a very, very competitive place where Republicans routinely won elections to a solid blue Fairfax County," he said. "With your help this year, I won every precinct in the 11th District. We got almost 72 percent of the vote — the best showing in my career."
"Let me just say about Individual #1 — he's had a bad month," said Connolly, who will chair the Government Operations Subcommittee come January. "Trump declared a great victory on November 6, after the midterm elections, but we have now won 40 seats in the House of Representatives."
"If we are presented with clear evidence that the president himself directed and coordinated an illegal campaign contribution in violation of federal election laws to pay off two women for their silence from revealing having an affair with him, frankly the House will have no choice but to hold him accountable," he said. "Trump does control 40 percent of the vote and we are going to have to persuade them that his behavior has crossed the line. And for the sake of Democratic institutions, the sake of preservation of the Constitution of the United States, he must be held accountable."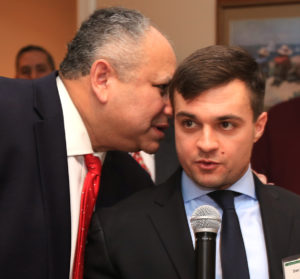 The special guest at the party was Mark Putnam, a prominent consultant and producer of Democratic campaign ads who worked for President Obama's media team and many other successful campaigns, including Jennifer Wexton's. Among the commercials he presented to the 100 or so partygoers were Wexton driving her boys through the years of serving as an attorney, prosecutor, and as Virginia State senator.
One of most powerful ways to connect a candidate with voters is to show their humanity, and Jennifer had a heck of a story to tell, Putnam said. Another commercial that he showed was the "Trumpstock" commercial. The "Trumpstock" idea came to him in the middle of the night and he was especially pleased when CNN mistakenly once called Wexton's opponent U.S. Rep. Barbara Comstock "Trumpstock" on election night.
The party was graciously hosted by Carlos and Betty Del Toro at their lovely Alexandria home.
Photo at top is of Mark Putnam, a prominent consultant and producer of Democratic campaign ads, discussing his effective ads.
---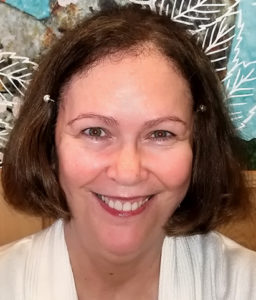 Karen Kirk is the Deputy Editor/Photo Editor of The Blue View and a retired journalist who worked for the Knight Ridder/Tribune News Service, which later became the McClatchy/Tribune News Service.