Virginia refers more of its public school students, in percentage terms, to police than any other state. Now Northern Virginia state legislators want to address this troubling problem in the upcoming General Assembly session starting Jan. 9th in Richmond.
Seven local legislators, all Democrats, held a forum recently in the Richard Byrd Library in Springfield, Va., to discuss the dysfunction of our state's juvenile justice system and explore potential solutions. The Dec. 17th forum was hosted by   the Virginia State Conference NAACP criminal justice committee, Justice Forward VA and Virginia Autism Project, and moderated by disability advocate Rachna Sizemore Heizer.
Heizer started by laying out the problem:  according to a 2015 report from Center for Public Integrity,  Virginia reports middle and high school students to law enforcement at a rate of about 16 per  1,000 students – almost three times the national average of  6.
Moreover, according to a 2017 report by the Legal Aid Justice Center, African-Americans and disabled students bear the brunt of disciplinary action in the Virginia public school system.
The suspension rate for black students is 3.8 times greater than for Hispanic and white students combined.
Students with disabilities were suspended at a rate 2.6 times larger than that of their non-disabled peers.
Surprisingly, as the Washington Post reported, middle schools referred more students, proportionately, to police than high schools. Nearly half of criminal complaints were issued to students younger than 14 — in some cases much younger.
Heizer then turned the floor over to state legislators for their views: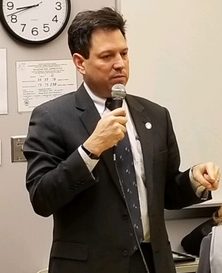 Sen. Scott Surovell (D-36) pointed out that disciplinary problems can often be traced to early childhood and advocated for government funding of preschool to help poorer and less advantaged students catch up to their wealthier peers. "School isn't a fun place to be, if you start off from behind on Day 1," he said.
Surovell said standards for school suspension are not consistent, as shown by wide disparity among districts, and should be harmonized.
He also said schools have improved in the speed and transparency of their responses to information requests – but more data are still needed. He noted that parents can find information on school suspension rates by race, but not disability, and much more information, on Virginia's Department of Education website.
Del. Elizabeth Guzman (D-31) said she is introducing legislation to increase the age at which juveniles can be tried as adults from 14 to 16. Guzman also said that students must be informed of their Miranda right to remain silent and not be pressured to waive this right.  She added that Virginia law should be updated to reflect more broadly the range of mental illnesses and disorders recognized by mental health professionals.
Del. Vivian Watts (D-39) called for better training in crisis intervention for school police officers as well as teachers. With better training, tense situations could be de-escalated more often, reducing arrests.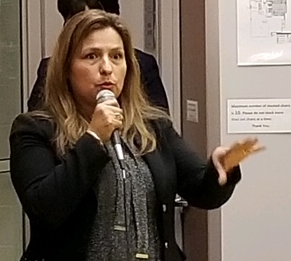 Del.  Kaye Kory (D-38) called for "Handle With Care" legislation that would allow for open communication between the police and school but require parental permission for schools to reveal pertinent but personal information about the student, such as disability status.
Sen.  Jeremy McPike (D-29) emphasized the importance of career exploration and alternative positive pathways for students to help them develop options and opportunities beyond criminal activities.
Also participating in the forum were Sen. Dave Marsden (D- 37) and Del. Marcus Simon (D-35). Sen.  Marsden, who spent 17 years as head of the Fairfax County Juvenile Detention Center prior to his career as a legislator, gave a brief history of juvenile justice in Virginia. Del. Simon mentioned the importance of incentivizing those working in the juvenile justice system and in our school system to ensure that reform measures are implemented correctly.
Here is a partial list of bills to be taken up in the next session dealing, in part, with juvenile justice:
HB 1651 – Raising grand larceny limit to $750 (limit was raised to $500 in the last legislative session): Chief Patron Delegate Hayes
https://lis.virginia.gov/cgi-bin/legp604.exe?ses=191&typ=bil&val=hb1651
HB 1642 – Studying solitary confinement: Chief Patron Delegate Hope; Del. Kory is also a patron
https://lis.virginia.gov/cgi-bin/legp604.exe?ses=191&typ=bil&val=HB1642
HB 1665 – Community service instead of paying fines
https://lis.virginia.gov/cgi-bin/legp604.exe?ses=191&typ=bil&val=HB1665
SB 1013 – Repeals suspension of driver's licenses for not paying fines: Chief Patron Senator Stanley; House Patron Delegate Kory
https://lis.virginia.gov/cgi-bin/legp604.exe?ses=191&typ=bil&val=SB1013
SB 1053 – Juvenile offenders; parole: Chief Patron – Senator Marsden
https://lis.virginia.gov/cgi-bin/legp604.exe?ses=191&typ=bil&val=SB1053
SB 1033 – Defendant viewing of body worn cameras – Chief Patron Senator Stanley
https://lis.virginia.gov/cgi-bin/legp604.exe?ses=191&typ=bil&val=SB1033
Reported by Abby Fox, member of Braddock District Democratic Committee
Main photo: Local legislators discuss juvenile justice. L-R: Sen. Marsden, moderator Heizer, Sen. Surovell, Del. Kory, Del. Simon, Del. Watts, Sen. McPike