By Susan Laume: 
The Virginia chapter of the Sierra Club presented Virginia Del. Kathy Tran (D-42) with their Energy Freedom Award on Sunday, Jan. 6, citing her sponsorship of two bills in last year's legislative session supporting solar energy.
Although the bills did not pass, Sierra Club spokesperson Susan Stillman said in presenting the award that Tran's sponsorship was important in bringing attention to the need to make renewable energy sources more available and reduce energy costs for both consumers and municipalities.
The award was presented during an enthusiastic party at the Springfield home of Keli Jacewitz to send Tran off to Richmond for the start of the 2019 legislative session on Jan. 9.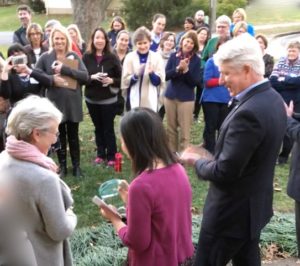 Included among the approximately 75 attendees were state Atty. Gen. Mark Herring, state Del. Eileen Filler-Corn (D-41) and Fairfax County Sup. Jeff McKay (D-Lee), who is running for supervisory board chairman.Constituents at the party took turns to compliment Tran for her work on a wide range of issues including access to health care, public schools, community safety, environmental protection, infrastructure and roads, and improving inclusiveness.
Host Jacewitz recalled, "We were having trouble with adequate crosswalks near our school during street repaving and were getting nowhere with VA DOT [Virginia Department of Transportation]. We called Kathy.  The next day we had reflective strips and a much more responsive VA DOT."
Tran looks forward to a busy session in Richmond. She serves on the Privileges & Elections and the Science & Technology Committees of the state House. In addition, she is the new finance co-chair for the House Democratic Caucus.  Moreover, she plans to support Gov. Northam's efforts to ban assault weapons, and has signed on as a co-sponsor for a resolution to approve the proposed Equal Rights Amendment to the Constitution.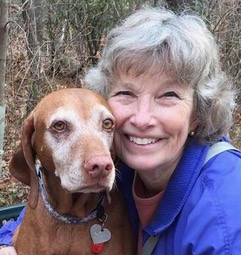 Susan Laume is a member of the Springfield District Democratic Committee and a director of the NoVA Coalition for Animals. With her dog, she works as a therapy dog team.
Main photo: L-R: Jeff McKay. Mark Herring, Kathy Tran and Eileen Filler-Corn at a send-off party for Tran. Photo by Susan Laume