By Susan Laume:
Local governments in northern Virginia and elsewhere in the Commonwealth can now generate up to 30 megawatts (MW) of renewable energy for sale back to the power grid, thanks to recently passed legislation sponsored by state Del. Kathy Tran (D-42).
The pilot program allows counties, cities and towns to generate electricity from renewable energy sources at their facilities and feed back the power to their utility company for credit, in a  process known as net metering, thus reducing both expenses and greenhouse gas emissions.
"This legislation will protect our environment, save taxpayer dollars, and allow us to invest in important programs like our schools," said Tran. State Sen. Adam Ebbin (D-30) sponsored the companion bill in the Senate.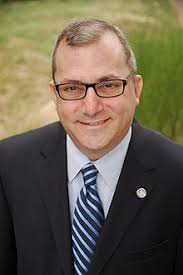 Under the program, Dominion Energy will accept up to 25 MW of renewable energy while Appalachian Power will be capped at 5 MW. Each municipality is eligible to provide up to 2 MW to promote wider participation across the state.
Tran, winner of the Sierra Club's Energy Freedom Award, included a provision in the bill to allow credits generated by excess electricity at one building or facility to be credited to another public building or facility in the same municipality, even if not continuous to the generating site.
For example, if a municipal parking garage or landfill generates a large amount of solar or wind energy, but has little need for electricity beyond lighting, then the credits generated at that site maybe shared within the same municipality's  system, such as at a school or government building.
Tran's bill is one of only a handful of energy related bills which passed this session, out of nearly 60 introduced.  The few bills passed included those that established a stakeholder process for input on development of utility energy efficiency programs; a change to net metering programs for electric co-operatives, raising their caps; and standards for school modernization to encourage energy efficient building standards and net zero designs.
Rejected bills includes those capping carbon emissions; placing a moratorium on approving new fossil fuel facilities; removing caps on net metering; and funding solar projects to incentivize energy efficiency projects.
Tran earned the Sierra Club award last year for bringing attention to the need to make renewable energy more available, and to lower costs for municipal consumers. (Click here to read story.) Overall, Virginia lags behind other states in renewable energy usage, generating only 241.1 MW of solar, compared to 508 MW in nearby Maryland in 2016.
According to the activist group Powered by Facts, Virginia ranks 13th in renewable energy growth projects planned for the next five years.  "The Commonwealth has the unique opportunity to generate a greater amount of renewable energy at a more efficient rate and at a lower cost than the majority of states" due to its proximity to both mountains and the ocean for solar and wind renewable energy production, says the organization.
Tran acknowledged the role of stakeholders in supporting the bill, including Virginia Association of Counties, the Metropolitan Washington Council of Governments, and Powered by Facts.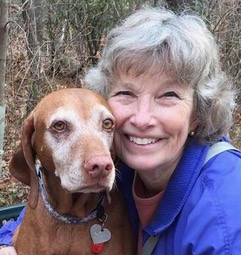 Susan Laume is a member of the Springfield District Democratic Committee and a director of the NoVA Coalition for Animals. With her dog, she works as a therapy dog team.
Main photo: Del. Kathy Tran beneath power lines that could carry green energy from municipalities under her pilot program/ Photo by Susan Laume