By Karen Kirk:
Melanie Meren won the endorsement of the Hunter Mill Democratic Committee for the district's Fairfax County School Board seat Wednesday night surpassing candidate Andy Sigle.

Voting took place after each candidate had a chance to address committee members at Lake Anne Elementary School in Reston.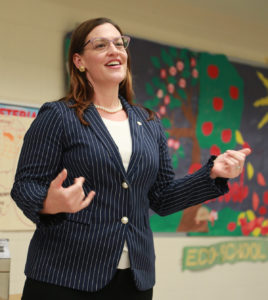 During the well-attended committee meeting, Meren told members that her whole career has been focused on public education advocacy. After getting master's at Duke University in public policy, she began working at the U.S. Department of Education in the office of Title I, which serves the most disadvantaged students.
"I got to travel around the country watching how No Child Left Behind was implemented in the states and also really sucking the life out of our schools," she said. "I also managed a $15 million early childhood grant and helped recruit a half a million dollars in misspent funds from a state education agency because the money wasn't being spent on kids who needed the most help."
Meren has been involved in Fairfax Schools as a substitute teacher, often for students with special needs. She was  appointed to a Minority Student Achievement Oversight Committee to look at the achievement gap, which she says is still pervasive today.
She said that a few months after her daughter started kindergarten in 2016, Fairfax County Schools planned to cut $75 million from the budget. She rallied other parents to speak up for investment in public schools and helped to get $60 million back in the budget.
"Children need to have a joyful, meaningful experience in order for them to connect and want to be in school and leave school prepared for life, whether that's a four-year college, career, work, dance, music, whatever that student can do to achieve success, she said. "We need to be looking at our students individually."
Meren also said that we need to give teachers time for professional development and respect their time and professionalism.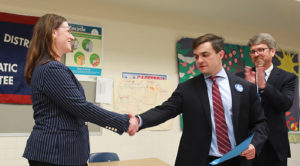 Candidate Andy Sigle told committee members that the school board needs people "who have a strong business background, who are good financial stewards, who have been in charge of managing multi-million-dollar budgets and understand accountability and metrics, which are important in measuring our success toward an improvement plan." Sigle was a manager and executive in the telecom industry for over 28 years and has been active in the Reston community, including serving as president of South Lakes High School's PTSA and president of the Reston Association.
Hunter Mill District Co-Chair Gordon Simonett acknowledged outgoing Hunter Mill District Representative Pat Hynes for her many years of excellent service on the school board.
---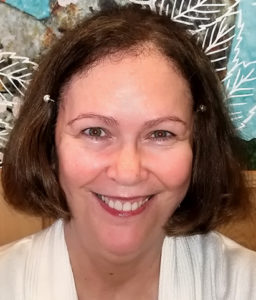 Karen Kirk is the Deputy Editor/Photo Editor of The Blue View and a retired journalist who worked for the Knight Ridder/Tribune News Service, which later became the McClatchy/Tribune News Service.