U.S. Rep. Jennifer Wexton (VA-10) received a Hope Award from Calvary Women's Services Wednesday night for her work to end domestic violence and addiction at the organization's 18th Annual Hope Awards Dinner in Washington, D.C.
The event honors leaders who uplift and empower women and celebrates the success of women at Calvary who are achieving their goals and moving out of homelessness.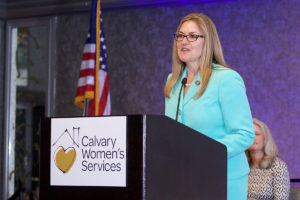 Wexton was recognized for her work to end the two primary contributors to homelessness, as well as her work supporting women and women's rights.
"I'm honored to have received this year's Hope Award from Calvary Women's Services," Wexton said. "I'm proud to have fought for women and children my entire career, and I'm committed to continuing that work in Congress."
As an assistant Commonwealth's attorney in Virginia, Wexton prosecuted numerous domestic violence cases, holding abusers accountable and linking survivors to the resources and supports they needed to end the cycle of violence.
As a private attorney, Wexton helped survivors navigate the court system to get protective orders against their abusers.
In both roles, Wexton worked alongside the Loudoun Abused Women's Shelter and other nonprofits to help make sure that survivors of domestic violence had a safe place for themselves and their children to live.
As a Virginia State Senator, Wexton worked with Republicans and Democrats to keep guns out of the hands of domestic abusers, helped pass legislation to get resources directly to victims at the courthouse when they receive a protective order, and worked alongside Virginia's Sexual and Domestic Violence Action Alliance to achieve those goals.
Wexton also worked with healthcare providers, mental health experts, and advocacy groups to change the way Virginia addressed addiction. She led the charge to pass laws to expand access to the overdose reversal drug Naloxone and help substance-exposed newborns and their mothers stay together and get the resources they need to recover and lead healthy lives.
Calvary Women's Services is committed to ending homelessness, inspiring hope, and transforming lives.
Past recipients of the Hope Award include civil rights activist and Presidential Medal of Freedom recipient Dolores Huerta, co-founder of BET Sheila C. Johnson, Congresswoman Eleanor Holmes Norton, and journalist Katie Couric.