By Karen Kirk:
It's time to take the "Virginia miracle" into America's mainstream and win back the Senate and the presidency, said U.S. Rep. Rosa DeLauro at the Fairfax County Democratic Committee's Jefferson Obama Annual Dinner Sunday night in McLean.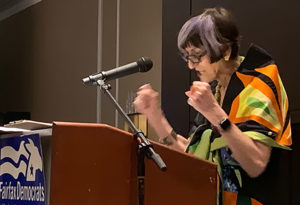 DeLauro, D-Conn., said that she is optimistic about what is about to happen in America because "of the story that started in 2017 in Virginia, fanned nationwide in 2018, and which will soon deliver a Democrat to the door of the White House. "It's the force of American activism rising to meet American carnage, the keynote speaker said."
"Every day there is a new outrage. Robert Mueller reiterated the scale of the Russian threat to our democracy and the scale of wrongdoing by a president who thinks that he is above the law. Every day the president and this administration inflicts so much purposeful pain. But the voters will have the last word."
DeLauro, first elected to Congress in 1991, chairs the Labor, Health and Human Services and Education Appropriations Subcommittee, which covers one third of the non-Defense budget and includes programs that impact people in all phases of their lives.
"The work that we do is reflected in the 2020 appropriation bill that just passed our full committee, nearly a $12 billion increase over last year — historic investments in early childhood education, child care, public schools, workforce training and apprenticeship programs, groundbreaking medical research, public health and food safety infrastructure and protecting women's health from this administration's attacks. We advanced new initiatives in maternal mortality. And we include $50 million for gun violence prevention research."
"We pass legislation in the House because it's right thing to do and it puts pressure and momentum on the Senate, making it clear that if we had a Democratic Senate and a Democratic president, we could get them signed into law."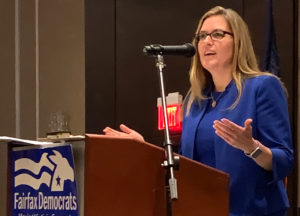 In addition to lifting working families, gun safety was a theme of the night with several speakers acknowledging the tragic mass shooting that killed 12 people in Virginia Beach on Friday and calling for the need to elect Democrats to address gun violence.
U.S. Rep. Jennifer Wexton, CD-10, said that legislation was introduced to ban high capacity magazines such as those used Friday's shooting, but because of the power of the NRA, the Virginia General Assembly shot down every single bill in committee. She said this year we have a chance to win majorities and pass those bills.
Special Guest Speaker Bakari Sellers said, "I cannot let this moment pass. I can't stand up here and not think about DeWayne Craddock walking into the Virginia Beach Municipal Building, with two legally purchased 45-caliber pistols, a silencer and multiple clips and opening fire on Friday." Sellers said it was personal for him because it wasn't that long ago that another gunman, white supremacist Dylann Roof walked into Mother Emanuel AME Church during a study group and shot to death nine men and women, including his dear friend S.C. State Sen. Clementa Pinckney.
"When I talk about gun violence with our members of Congress and Democrats running for president, I want to see a commitment to ending this scourge, said Sellers, who is a political analyst at CNN and a surrogate for presidential candidate Kamala Harris. "I want commitments to hold gun manufacturers accountable for the blood on their hands."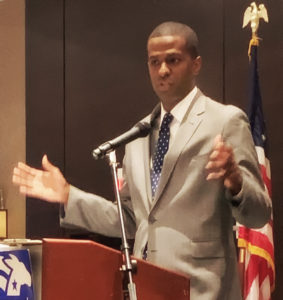 Sellers puts the needs of the people over the need to push Trump out of office in the 2020 presidential election.
"Understand that this election is not about Donald Trump even though he ignores the Constitution, even though he embraces domestic terrorists, obstructs justice and makes a mockery of our democracy. Even though he attacks women and minorities and holds refugees hostage to his political ambition. It makes my blood boil with every word he speaks and character he tweets.
"This is not about him or his Republican apologists who want nothing more than tax breaks for the rich and preexisting conditions abolished for the rest of us. It's about that friend that couldn't be here tonight because he works third shift, even on Sundays. That friend who does everything asked of him and more, works hard and follows the rules and never complains, but still he can't catch a break or a raise while his bills keep piling up.
"It's about that teacher, the one who made an extra effort when your child was struggling with algebra. That college-educated professional woman picking up part-time hours at Wal-Mart because the district can't afford to pay her a professional wage. It's about the small business owner who wants to know why his shop can't get the same breaks given to corporations. It's about the smart kid with a bright future who had an ounce of marijuana in his car when he was 17 and now can't get a job that pays more than minimum wage.
"It's about that mother-to-be who can't get the prenatal care her baby needs. It's about the child drinking formula mixed with tainted water and the parent who has to teach his or her child how to survive a traffic stop.
"It's about more. It's about you. It's about us. It's about all of the American people because we are better than this. We have to stand for something so let us stand together for higher wages, for better health care. Stand with me for justice reform and gender equality.  Stand with me for economic fairness and the environment. Stand with me for the people in Virginia Beach and Sandy Hook and Mother Emanuel."
Among the other speakers at the event were Guest of Honor Gov. Terry McAuliffe and U.S. Rep. Don Beyer.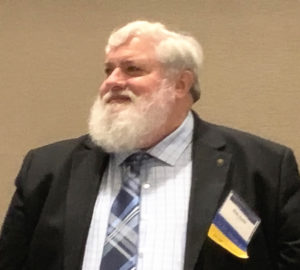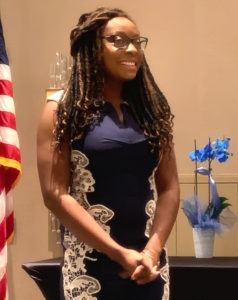 Among the FCDC members who received awards at the event from Chair Dan Lagana were:
District Member of the Year:  Lorraine Cross, Vice Chair of Sully District. Lorraine is the senior editor and content provider for Sully's social media and weekly newsletter and has made significant improvements to them.
Volunteer of the Year: Mike Sternad, Mason District, for his leadership in the Neighbor-to-Neighbor program. Mike has brought 60 new Democrats to table.
Young Leader Award: Tiffany Pryce, Lee District. Tiffany's natural leadership style and innate ability to appreciate the needs of her community lead her to create the FCDC Outreach Committee which she now chairs.
Community Service Award: Ben Zuhl, Dranesville District. Ben was recognized for leading the NRA protests on 14thof every month among other initiatives.
District of the Year: Dranesville, in part for its hard work to elect Jennifer Wexton to Congress and unseating Barbara Comstock.
Chair Lagana recognized Fairfax County Chairman Sharon Bulova, who is retiring next year, for her many years of service to the county.
Main Photo is of Lorraine Cross receiving the District Member of the Year Award from FCDC Chair Dan Lagana. / Photos by Karen Kirk.
---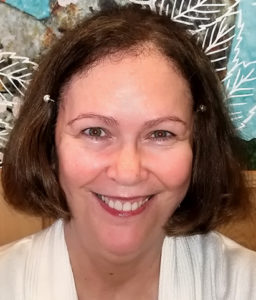 Karen Kirk is the Deputy Editor/Photo Editor of The Blue View and a retired journalist who worked for the Knight Ridder/Tribune News Service, which later became the McClatchy/Tribune News Service.