By Susan Laume:
Since June, an informal grassroots group in Springfield has written 11,937 postcards – beating their goal of 10,000 —  to help re-elect Kathy Tran (D-42) as Virginia state delegate and elect other Democrats to local and state office.
"Team Tran," as the group is called, recently wrapped up their work for the 2019 election, to be held on Tue., Nov. 5. The four-month effort included approximately 50 local postcard writers, over 100 Facebook members, and writers from other states as far away as California and Hawaii. Supplies and postage cost about $4,000, all met through donations outside formal campaigns.
Postcarding is a relatively new campaign tactic and hard data on its effectiveness is hard to come by – which is one reason why large scale projects like Team Tran deserve a close look.
The Blue View spoke to Team Tran leaders Christine Haan Swirbliss and Keli Jacewitz to learn more about their groundbreaking effort. Other key figures in the project are Erica Reynolds Clayton and Melissa Chabot.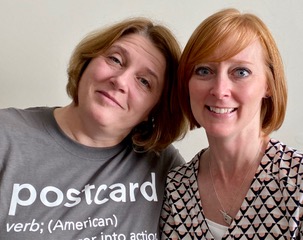 Q: First, what is "postcarding" and what goals have you set for Team Tran?
A: Swirbliss – At the start, the group focused solely on creating handwritten, individual notes, addressed to Democrats in the 42nd District in support Kathy Tran's re-election.  People receive a lot of campaign literature, but to get a handwritten message is noteworthy.   The group has met each week for three-hour postcarding and socializing sessions.  A wider goal is to flip Virginia blue, and keep it blue. The group did some writing and outreach for other local and State candidates as well.  Our goal: 10,000 handwritten postcards to urge voting and voting blue.
Q: Is "postcarding" a proven outreach tool?
A: Swirbliss – It's a new method and there's limited research, compared to door canvassing, phone and text banking, candidate signs, and formal advertising. But there is some data showing it produces increased voter turnout among infrequent voters, at rates similar to door canvasses.
A: Jacewitz – It's an opportunity to be politically active for many who had not been active before.  Postcarding allows participation for those without the physical ability to go door knocking,  or who are too introverted to make phone calls.  For many, it's led to trying other more traditional means of outreach too.
Q: Who is part of the group?
A: Swirbliss – We have die-hard Democrats, some moderate Republicans who are upset with the status quo, some who have been inspired to act by Trump's election and behavior in office.
A: Jacewitz -We have all ages, from retired writers, to students, to younger children.  Some families come and write together.  One nine year old donated allowance money for postage. I love that there is an intergenerational connection within the group.
Q: What have you done to raise money and keep people motivated within the group?
A: Swirbliss – We've raised funds to cover about $4,000 in expenses for postcards, stickers, labels, and postage. The money came from asking, sometimes begging, when funds were low,  donations kicked into a jar each week, and tee shirt sales. Most have been small donations, none funded by the formal campaign. Often people who couldn't write, donated instead.
A: Jacewitz – Many people come for the camaraderie of the group.  And we always threw some food together, and occasionally dinner, for those coming straight from work, which helped keep people coming too.
Q: What happens to the group after the November 5 election and what have you taken away from this effort?
A: Swirbliss – We keep going for the next general election! Senator  [Mark] Warner [D-Va]  and Rep. [Jennifer ] Wexton [D-10] , and Rep. [Gerry ] Connolly [D-11] have terms ending in January 2021, for example. We're going to run a tighter effort next time — using less expensive postcards and selling more tee shirts.
A: Jacewitz – "I love how my house comes alive on [meeting nights]. All the conversation; people who have come to know me and my family. I'm really looking to getting started again."
To this reporter, Team Tran's effective organization, group camaraderie, infectious enthusiasm, and inclusiveness are assets in themselves. But in a race that will be watched closely, beyond the Springfield heart of Tran's district, the team's dedicated grassroots focus may have a very positive impact on voter turnout and the election.
Main photo: Team Tran celebrates writing 11,937 postcards, a large scale test of this relatively new campaign tactic/ Photos by Susan Laume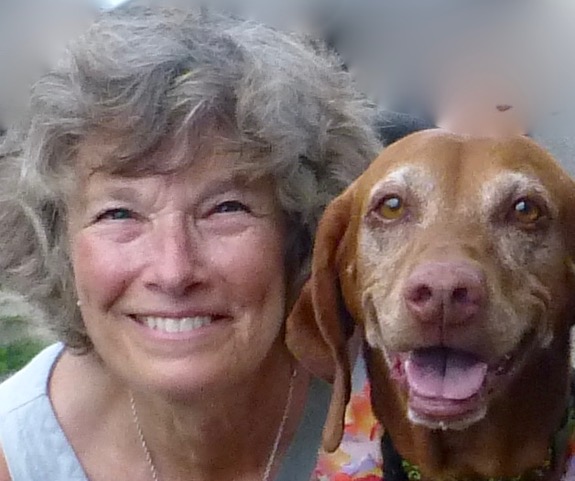 Susan Laume is a member of the Springfield District Democratic Committee and director of the Virginia Dog Army, an animal advocacy group.  She and her dog work as a therapy dog team.
Like this story? Share it on social media!