By Susan Laume: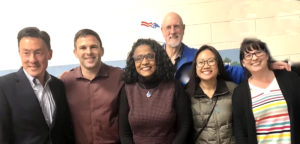 Buoyed by camaraderie and recent election results, the mood was decidedly upbeat as the Springfield and Hunter Mill District Democratic Committees  celebrated a great year this weekend.
The Springfield Volunteer Celebration was held Friday night at Clifton Town Hall to thank campaign and poll workers. It drew several Springfield area elected officials who thanked volunteers for their efforts.
"Thank you for all you did to flip the House," said newly-elected Dan Helmer, District 40 (Centreville), who ousted a long-time Republican incumbent Tim Hugo. "I don't know if you know this, but we raised more money than any delegate race in history. You knocked on more doors than any delegate race in history." Helmer's victory was one of several the changed the State House to a 55 to 45 Democratic majority.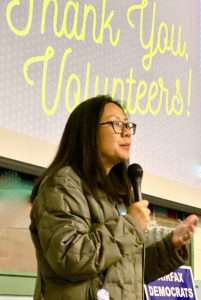 Re-elected Delegate Kathy Tran, District 41 (Springfield) told the crowd, "We won a Democratic majority … because of all of your hard work.  My re-election and the Democratic majority shows that Virginians want us to stand strong with women and women's rights. … All politics is local, building the bench is local. And it starts right here in this room, in this community and I'm eternally grateful and look forward to all the great work we'll be doing over the next two years."
Delegate Mark Keam of District 35 (Vienna), who ran unopposed and campaigned for several other candidates, reminded the crowd, "Tonight we celebrate, and for the next few weeks. But elections are not just about winning or losing. It's about changing the policies to ensure State and federal government reflects values you have and priorities you want.
"Springfield this year was 'ground zero' of how change could happen when you have volunteers who are active, engaged and motivated, and also educated about what's going on in your state and country; (who) stand together and work together for a cause.  What you did right here in Springfield, it should be the example for not just what you did for the rest of the state, but the rest of the country, next year."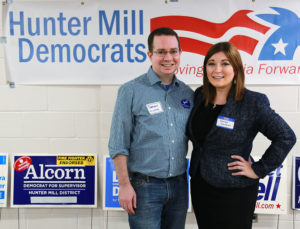 District committee chair, Jennifer Lowe Davis, recognized her steering committee and also out-going Co-Vice Chair, Precinct Operations, John Wittman for their service. Other elected who spoke were Karen Keys-Gamarra and Laura Jane Cohen, for School Board, and Chris Koerner for Soil and Water Conservation.
The Hunter Mill Democrats Volunteer Appreciation Party was held Saturday at the Vienna Community Center and drew a bigger crowd than last year — a lot of happy people proud that Democrats now control Virginia.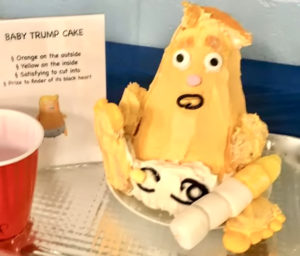 Hunter Mill District Democratic Committee Co-Chairs Denver Supinger and Gordon Simonett said the gathering was "to celebrate the hard work of our volunteers and our shared success in electing Democrats here in Fairfax County and across Virginia."
Officials attending included U.S. Rep. Gerry Connolly, newly-elected Hunter Mill School Board Rep. Melanie Meren and outgoing Hunter Mill School Board Rep. Pat Hynes.
— Karen Kirk contributed to this article.
Top Photo: Newly-elected Hunter Mill School Board Rep. Melanie Meren, left, former Fairfax County Democratic Committee Chair Sue Langley, and outgoing Hunter Mill School Board Rep. Pat Hynes, right, at Hunter Mill party Saturday at the Vienna Community Center. / Photo by Karen Kirk.
---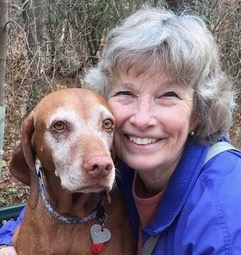 Susan Laume is a member of the Springfield District Democratic Committee and director of the Virginia Dog Army, an animal advocacy group.  She and her dog work as a therapy dog team.
Like this story? Share it on social media!