By Susan Laume:
In October 2019, when The Blue View covered the visit to Springfield, Va. of then presidential candidate Kamala Harris, we could not have guessed we were meeting the vice-presidential candidate who will share the Democratic ticket with Joe Biden this November.
Harris told the crowd that day, "Nothing we've done as a nation we've achieved without a fight. Social justice, civil rights, the continuing fight for equality, came about because we're prepared to fight."
As the first woman, and first person of color, who could hold the vice president's office after a successful election in November, she could well be expected to continue that fight for equality. Indeed, her selection by Biden, as a woman of color, speaks to the Democrats' strong commitment to strive for a more just system for all in the United States.
Vice presidential candidates often are selected for their ability to compliment the strengths of the presidential candidate and to appeal to a wider range of voters. Participants at the October rally in Springfield were treated to the story of her appeal to young voters and future voters, while listening to high school student Caleb Fulford, who traveled for four hours from Chesapeake, Va. to hear Harris speak.
The senator took a moment to interact with Fulford as he named her his "most loved candidate ever." Although he cannot yet vote, he aspired to see her win the national election and we can guess that he will be working to support her election.
Sen. Harris, the junior senator from California, is a graduate of Howard University, as well as the University of California, and Hastings College of Law. Before winning her Senate seat in 2016, she served as the elected district attorney in San Francisco, was elected California's attorney general in 2010, and was re-elected to the post in 2014 by a wide margin.  She gained national prominence through her service in the United States Senate, including as a member of the Judiciary Committee, and as a presidential candidate.  Her selection as vice-presidential running mate was announced on August 11, in preparation for the Democratic National Convention which begins on August 17.
Main Photo: Newly named Vice Presidential Candidate Kamala Harris took time last fall to speak with young student Caleb Fulford, who traveled for four hours to meet her.
---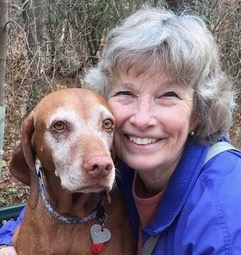 Susan Laume is a member of the Springfield District Democratic Committee and director of the Virginia Dog Army, an animal advocacy group.  She and her dog work as a therapy dog team.
Like this story? Share it on social media!