By Herb Smith:
The Commonwealth of Virginia has less than two months to go before Vice President Joe Biden and Senator Kamala Harris become the 46th President of the United States and the Vice President respectively.
In 2016, Virginia turned blue. Susan Swecker, the party Chair, was and still remains in leadership and has ushered the state to victory. Early voting begins Friday, September 18, at the Government Center in Fairfax, VA.Today, the percentage of votes coming out of Northern Virginia should be even higher because Democrats hold almost every elected office from the School Board to the Attorney General, Lt. Governor and Governor. How did this happen? Grassroots organizations and other sections contributed to this gain.
This article highlights three key Virginia Biden delegates who were elected in their districts and I have had the esteemed pleasure to work with. They include:
Deshundra Jefferson, a former reporter who decided in 2012 that she could no longer remain objective after watching Republicans step up their attack on voting rights. She has since worked on several progressive advocacy and political campaigns, including for Massachusetts Governor Deval Patrick's presidential campaign. She is a member of the DPVA Central Committee for the 1st Congressional District and was a national delegate for the Biden campaign.
"Vice President Joe Biden's convention speech captured me right from the start. He made a direct and clear contrast between providing light for a better future versus the dark curse of hatred and divisiveness that Donald Trump has cast upon our nation. I am wholeheartedly committed to helping Biden achieve the vision that he's laid out. There is no other choice — our democracy is at stake!"
When I let go of what I am, I become what I might be — Lao Tzu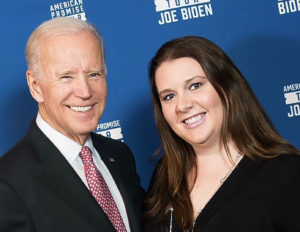 Amanda Linton lives in Woodbridge, VA, and has been one of Joe Biden's most loyal and dedicated fans. Her affinity for Joe started back in 2007, where she praised his efforts on the Violence Against Women's Act.  "Joe stood up for women when no one else did!" Growing up in Arizona, I was always a centrist Democrat. I believe that we as a country do best, when we all have a seat at the table. Not everyone will get everything, but we should always strive to meet in the middle. That's what I love about Joe. He listens to everyone. Every American matters to him! Amanda spent the early part of the campaign traveling to Iowa twice, New Hampshire, Pennsylvania, and helped secure a Biden victory in Virginia, her current residence. She received a tweet from Biden for her work on Soul Saturday, a day of community service, when she drove from Virginia to Philadelphia to deliver PPE and medical supplies to Temple Hospital. While she was there, she also decided to provide lunch to all the nurses and staff there and ordered several pizzas.
Her final act of dedication came as she won her first election to become a National Delegate for Biden, representing the 11th Congressional in Virginia. Linton continues to follow Joe and praises his ability to work with both super progressives and Republicans. "I'm convinced Joe Biden will heal our country. He's the one that can bring everyone together for the sake of our country".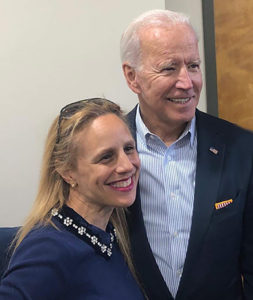 Reese Espy Glassman is the former Director for the House Committee on Foreign Relations where she served on the Subcommittee on Africa. In addition, she was the Director for the U.S. Committee on International Relations. Glassman was the former education chair of the local Fairfax Chapter of the NAACP, former senior's chair and currently the Editor of the Fairfax County Democratic Committee, Blue View. Glassman is the niece of Congressman Mike Espy from MS who is currently running for the Senate. Glassman was elected to be a Biden delegate in the 8th Congressional District.
"I worked with Senator Biden on the Foreign Relations Committee and then I heard him at the 2016 Philadelphia Convention, and was moved to tears. "Joe shows empathy and resiliency, something we haven't seen in a long time. He will fight for the end to systemic racism. I am a member of Alpha Kappa Alpha, Sorority, Inc. and I fully support my soror, Kamala Harris. Kamala has the skills and the fortitude to win in November. We are fighting for the soul of the nation."
Be the change you want to see in the World — Ghandi
All three of these women were early Biden supporters and will be the ones to watch help Virginia turn blue this election cycle.
Main Photo: Democratic Vice Presidential Candidate Kamala Harris with Deshundra Jefferson. / Photo provided by Jefferson.
---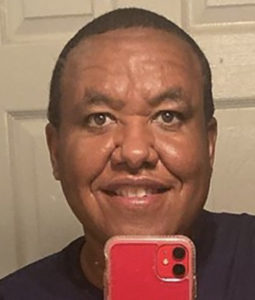 Herb Smith was the Outreach Chair for FCDC and a former member of Mason District. Herb was elected to serve as a Biden delegate in Maryland. He received signatures for Biden in early 2019. In addition, Herb served as state Director for Hillary for America, Political Director for Donna Edwards and was the Campaign Director for Montgomery County 100,000 homes campaign for the homeless. He has 15 years of political organizing experience.
Like this story? Share it on social media!