By Reese Espy Glassman:
With Covid-19 having devastating effects in our community, our foster care teens are often forgotten about. The annual Foster Teen Gift Drive by the Fairfax County Democratic Committee (FCDC) was extremely successful, exceeding the goal and we were able to give holiday gifts to more than 100 foster teens in the county.
"The two Co-Chairs of this initiative, State Sen. Barbara Favola and Chairman of the Fairfax Board of Supervisors Jeff McKay, should be lauded for their leadership," said FCDC Chair Brian Graham.
"I was honored to serve as a co-chair for this record-breaking fundraiser. During these uncertain times, our community has shown their generosity every day and I'm grateful to be a part of it" McKay said.
This program, run by dedicated FCDC folks, puts together holiday gift bags for foster teens and young adults between the ages of 13 and 21 — a vulnerable group that is often forgotten or left behind.
FCDC worked in collaboration with the Fairfax County Department of Family Services to help reach the nearly 100 foster teens in the county and make sure they receive gifts this holiday season.
This year has been difficult for everyone, but it's been especially tough for these teens. Many live in group homes or have unstable living situations. They're also less likely to be adopted due to their age. They need our kindness and support more than ever.
If you're interested in finding out how you can help a foster teen, please visit fairfaxdemocrats.org/gift to learn how you can bring holiday cheer to these deserving teens. There are multiple ways to help, including purchasing gift cards or buying items off of an Amazon Wishlist.
We contributed enough to fill two gift bags with the cards, candy and presents the kids requested.
The drive was extremely successful, and we are proud to announce that we can give the teens gifts for their birthdays, graduations or other important milestones in the coming months.
Have a wonderful holiday and remember to be safe, wear a mask, and help us make the coming Holiday Season merry and bright for these foster teens.
MAIN PHOTO: Chairman of the Fairfax Board of Supervisors Jeff McKay and State Sen. Barbara Favola are Co-Chairs for the Fairfax Democrats' annual Foster Teen Gift Drive.
---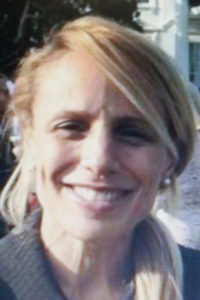 Reese Espy Glassman is the Editor of the Blue View and is a member of the Fairfax County Democratic Committee. Previously, she was the Director for the U.S. Committee for Refugees and Immigrants and the Director on House Foreign Affairs Committee.
 Like this story? Share it on social media