Editor's Note: First in a two-part series on gun-related bills in the recently concluded state legislative session. Part 1 deals with the Senate; Part 2 deals with the House of Delegates and will appear shortly
By Sen. Dick Saslaw:
Our push for commonsense gun legislation in the recently concluded session was derailed within days of the first gavel of the year.
The session began hopefully. During the first meeting of the Senate Courts of Justice Committee, the chair had put nearly 40 firearm related bills on the docket. However, despite thorough expert testimony and a strong turnout from constituents who traveled to Richmond for an 8 am meeting, the bulk of these bills were passed by indefinitely—ie, killed in committee.
SB 1 was the first bill introduced in the session. It sought to ban the sale of bump stocks, the weapon attachment used by the shooter in Las Vegas in October that left 58 people dead. That bill got as far as the House of Delegates before meeting its demise in a sub-committee.
SB 1 making it through the Senate was a step in the right direction. But the Senate also approved ill-advised gun-related bills such as SB 372, which would allow weapons in places of worship, and SB 715, a measure to permit concealed carry for emergency medical technicians and firefighters. Fortunately, the House put a stop to this.   
This session showed again that until we see some change in the majorities in the legislature, we do not have the votes to move sensible gun legislation forward.
But throughout the country, it feels as is if the tide is finally turning on this conversation.
In solidarity with their peers, many of the nation's young people walked out of school on March 14th to protest gun violence. I commend their determination to fight for their lives and move the issue to the front burner.  Ten days later, hundreds of thousands stepped up to the plate in support of our youth on this issue, participating in March for our Lives rallies in Richmond, Washington D.C., and cities across the nation.
We must keep fighting for public safety and legislation to keep weapons out of the wrong hands. I discuss some numbers surrounding Guns in America in my recent segment "A Minute with the Leader".
A new majority is rising, and if we bring this enthusiasm and energy to the ballot box, we can make our county, our commonwealth, and our country a safer place.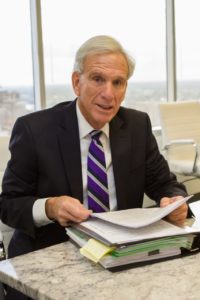 Dick Saslaw, D-35, is the Virginia state senator for the 35th district, including portions of Fairfax, Alexandria and Falls Church