By Karen Kirk:
The Fairfax County School board heard spirited comments both for and against changing the public school sex education curriculum to make it more LGBTQ inclusive at its regular meeting Thursday, May 24.
The discussion was a precursor to the vote on June 14 on changing wording in the Family Life Education (FLE) curriculum. The proposed changes include using the term  "sex assigned at birth" rather than "biological sex" and informing high school students about a pill that was recently approved for adolescents to reduce the risk of HIV transmission.
Paul Wooldridge, who has two children who attended the Fairfax County Public Schools system, one of them transgender, spoke movingly of his son's experience.  "Now FCPS has many teachers and administrators who recognize the rights and needs of transgender students. However my son's experience showed that there are plenty of students and a few teachers that were not so understanding and accepting of the person he is."
"He was teased and degraded in the halls by fellow students," continued Wooldridge. "He was also intimidated by a few faculty members in apparent attempts to make him feel shame or lesser of a person. This unsolicited treatment was dished out in spite of my son's attempts to proactively educate the faculty and fellow school students about the transgender issues and human rights."
Wooldridge added, "Many students would suffer greatly from that kind of bullying to the point that their school performance would suffer or they would feel pressured not to go to school to avoid that treatment or even worse, to resort to self-harm. Luckily my son is a strong character and he prevailed and graduated with flying colors but that doesn't justify having him experience such misguided and cruel treatment by the uninformed."
On the other side, expectant mother Tabitha Walter said,  "We just learned this week that we are expecting a baby boy … This board is about to teach students that it's impossible to know a baby's sex. That biological sex is meaningless —  is hazardous material for young minds."
She continued, "We were shocked to learn that it's this school board's policy to automatically enroll all children in the highly sensitive controversial sex ed lessons without getting their parents' permission first. That is outrageous. You ask for parents' permission before giving an aspirin, but you don't ask our permission before teaching children that they were not really born male or female or that they can transition to another sex?"
Walter was one of several people who criticized the board's proposed new language in person and in a submitted polished, professional video shown at the end of the night.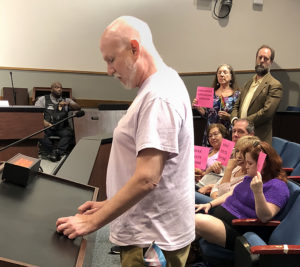 Robert Rigby said he was concerned that Fairfax voices will be overwhelmed in a national conservative campaign against changes in the FLE, including a nationwide call to email the board and comment.
Rigby dealt with  "pre-exposure prophyaxis" or "PrEP", a treatment to protect against HIV. Information about PrEP is proposed to be included in the FLE curriculum. A PrEP drug called Truvada was approved on May 15 by the Food and Drug Administration for adolescents, after having gained approval for adults in 2012.
"Some people say it is for gay and bisexual men and sex workers," Rigby said. "I say, should we not value those lives? But also a major use of PrEP is for married or partnered couples where one person has HIV and the other does not. PrEP relieves those families of fear and maybe keeps those marriages together. Most people I know personally who use PrEP are in that situation."
In response to a call for support from Fairfax County LGBTQ+ Democrats, a number of people showed up for the meeting holding purple signs reading  "Fairfax Respects Everyone."
Supporters also are encouraged to attend the Thursday, June 14, school board meeting when there will be a final vote on the FLE curriculum changes. The meeting will be held at 7 p.m. Jackson Middle School, 3020 Gallows Road, Merrifield, VA 22042.
Photo above story is of the audience waving ""Fairfax Respects Everyone" signs while a slick, submitted video opposing FLE changes plays.
---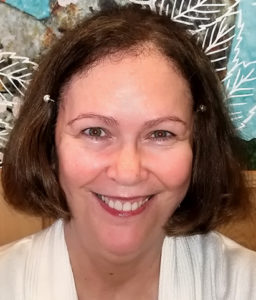 Karen Kirk, Deputy Editor and Photo Editor of The Blue View, is a retired journalist.