By Dalia Palchik:
As a first-generation immigrant, I know first-hand how hard it can be for a working family to access critical preventive care. And as a Fairfax County School Board member, I know the importance of affordable healthcare to a child's development. That is why I am so encouraged by the recent vote of our Virginia General Assembly to finally expand healthcare access to working parents under the Affordable Care Act.
A child cannot grow up healthy without their parents being healthy as well. We saw an increase in the availability and quality of healthcare that came after the passage of the Affordable Care Act. It was beneficial, but it wasn't enough: from 2008 to 2015, the numbers of uninsured in our county reduced by two percent. In Fairfax City, the numbers of uninsured decreased by four percent.
Now with Medicaid expansion life-changing coverage will be available for thousands more Fairfax residents – both students and their families. Throughout the state as a whole, an estimated 400,000 more residents will gain medical coverage through Medicaid expansion.
It is badly needed. In the Fairfax County Public School (FCPS) system alone, nearly 55,000 (or three of every ten students) are living in poverty. By itself, this represents the fifth largest school system in Virginia. Approximately 28 percent of students who attend FCPS schools qualify for the free and reduced-price meals.
While there is much wealth in Fairfax County and in Northern Virginia, we must also be aware of the rise in the number of working families struggling to make ends meet, and to "work, live, and play" in our community. Many of our students' parents are working two or three jobs to be able to afford to live here.
Expanding health care access under Medicaid will close the coverage gap for working parents. Parents will finally be able to access preventive care and affordable coverage. That way, even if they get sick, parents can be there for their families. And as the Centers for Disease Control and Prevention (CDC) have found, the health status of students is tied to the success in the classroom of students.
My parents moved our family from Argentina when I was six years old so that my three siblings and I could have the chance at a better future during a time of high inflation and economic insecurity back home. My father worked to support our family on $20,000 a year to ensure we could attend the best public schools and have access to the American Dream. That also meant taking on debt to make ends meet and to pay medical bills, and then college tuition.
Back then, the number of students living in poverty in Fairfax was growing, but not nearly what it is today. We now see many more students who face this, and even more challenging times at home.
I look forward to seeing the results of the newly signed biennial budget so that working parents can have expanded access to health care, and kids can go to school relieved knowing mom and dad are getting the coverage they need.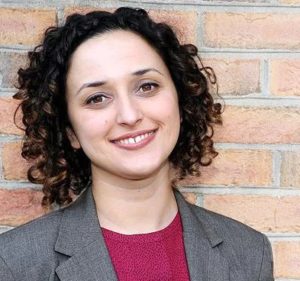 Dalia Palchik is the Fairfax County School Board member from Providence District. She is a language teacher, fluent in Spanish and French, and a community development professional.