By Brad Swanson:
Organized labor and allies rallied Saturday morning against Trump Administration plans to deport an estimated 20,000 protected status immigrants from northern Virginia.
"This is a cruel and vicious attack on families," said Virginia Diamond, president of the Northern Virginia AFL-CIO. Many of these immigrants have been in the USA for a generation and have sunk deep roots into their communities, she pointed out.
Nationwide, the federal government plans to withdraw Temporary Protected Status (TPS) covering 400,000 immigrants from El Salvador, Haiti and Honduras in 2019 and 2020.
TPS was originally granted because of political turmoil and elevated violence levels in home countries but supporters say that after many years of living in America, TPS holders have become American in all but name – homeowners, job holders, valuable members of their communities. Moreover, 300,000 children, all US citizens, have been born to these families and raised in this country. Their fate if their parents are forced to leave is in question.
After hearing speeches outside the Northern Virginia Labor Federation office in Annandale on Saturday morning, rally participants dispersed to canvass for Jennifer Wexton, a Democratic state senator who is in a tight race against incumbent Barbara Comstock as representative for the 10th Congressional district – the second biggest region for protected status immigrants, after Long Island, New York.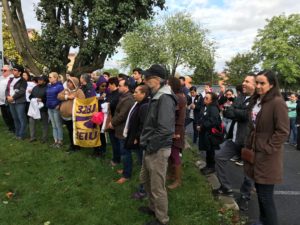 "Comstock has been silent on the [TPS] program," commented Jaime Contreras, vice-president of Service Employees International Union 32BJ. "Wexton has been a supporter of labor in Richmond."
"This is a personal issue for me," said Contreras, whose family fled the El Salvador civil war in 1988, when Jaime was 13 years old, and lived in the USA for years as undocumented aliens. He is now a US citizen, and a Navy veteran.
"Economically, [TPS deportation] doesn't make sense," added Contreras. He said about 100,000 TPS immigrants are homeowners, and many hold important jobs. "Employers call me to say. 'I'm going to lose a lot of workers' [if TPS deportations occur]", he said.
In fact, claimed James Boland, President of the International Union of Bricklayers and Allied Craftworkers, 50,000 TPS holders work in the US construction industry.
TPS holders are contributing to society in other ways as well. Tegwa Fadl Alla, a Sudanese TPS holder, briefly addressed the rally to describe her academic work in international education and leadership at Ohio University, where she teaches while pursuing a Ph D.
The Trump Administration has announced plans to deport the 260,000 Salvadoran TPS holders – the largest nationality – in Sept. 2019.  Also scheduled to terminate are TPS programs for 86,000 Hondurans, the second largest group, in Jan. 2020, and 58,000 Haitians, the third largest, in July 2019.
"This is a racist and anti-immigrant policy," said Diamond.  Added Boland in his speech, "There is the greatest anti-immigrant sentiment now that I have ever seen in my lifetime."
Recalling that the US has been built on immigration, Diamond summed up: "We're all TPS holders."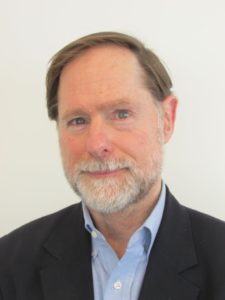 Brad Swanson is the editor of The Blue View. He is an international investment manager and has also  worked as a diplomat and journalist 
Main photo: Virginia Diamond (L) and Jaime Contreras at rally to protest TPS immigrant deportation/ Photos by Brad Swanson